What were you doing at midnight? On second thoughts maybe don't answer that! I was icing cupcakes for a school fundraiser - the joys of being a working mother! I'm quite pleased with them though, they started out quite cute but transformed into more gothy blood red vampire butterflies - much cooler! These ones are red velvet with a White chocolate buttercream and finished with a Hershey's cookies and cream sweetie ( now I know I've been watching cupcake wars too much!)
Here's a sample of the others...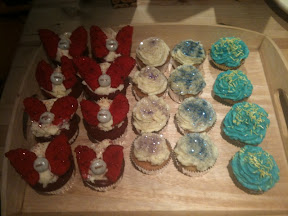 Some are vanilla, some are lemon - I've just got to get them to school in one piece... And explain away our blue tongues...
- Posted using BlogPress from my iPhone