We gave up on trying to fight our way through dust and rubble and escaped to Citygirls London lair for Easter. I know that's not really playing the self sufficiency game but there is a limit! We did decide to be complete tourists this time though, a first for all of us, in fact it was a day of firsts all round...
The minis went underground on a train for the first time...
They had their first black cab ride...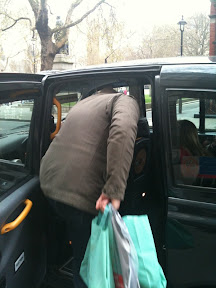 First trip to Fortnums to buy a special treat for freerangenan ( shhh don't tell her!)...
First trip to the Royal Academy to see huge paintings of the streets where we live!
And their first sighting of Big Ben Or big benson as they insist on calling it!
We dropped by to see the Queen...
We would have stayed for a cuppa but apparently she doesn't drink Yorkshire tea!
And of course we had to go on the London Eye - we were being tourists after all!
You can just see it in the background - it's too big to get the whole thing in shot!
The minis loved it - they collected tickets and pictures everywhere to put in their holiday scrapbooks and boy did they sleep well that night!
As for me I was ready for one of these...
Possibly the most appreciated Margherita ever!
Hope you all had a good Easter too x