Our week ended on a sour note as BHs car went into the garage only to be followed by a serious phone call from the manager asking us if we want pour more money into it's life support or pull the plug. On top of dust filled houses, freak snow storms and our two lovely children being 'bored already' something's got to give... So I did the only respectable thing and buckled down to picking the wallpaper for the new bedrooms ( when all else fails I find a blatant disregard for the chaos around me the best way forward!)
So what do you think...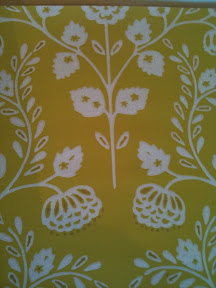 It's even zingier in real life! This is to go on the wall behind our bed. I suppose its called the feature wall - but I think that just means we can't afford to do the whole room! I know its bright - very very bright, but after months of looking at very tasteful, neutral colour schemes, I just decided that they ain't me! I want some colour to smack a smile on my chops in the morning and keep the winter blues at bay...
And besides it looks pretty grown up here...
In fact I like it so much I'm thinking of putting it at the top of the stairs, in a much more subtle colour of course...
But thats only so i can set it off with a bright red carpet! Bring on the colour!
And if a certain luxury car dealer sells you a lemon, don't ever go there again, have a bloody good cry and then pick yourself up and buy wallpaper instead ... Works for me...
Posted using BlogPress from my iPhone