Chelsea flower is a ritual for us, an annual pilgrimage to the place where gardening dreams become reality, and a really good excuse for a top girly day out!
My highlights this year were the
The b and q garden with it's bug hotel...
Cleve Wests gorgeous best in show garden with it's inspired yellow and red planting...
Tom Hoblyns Cornish garden with it's fabulous dinosaur eggs, I mean pots...
And the beautiful Yorkshire art garden...
I also spied my dream car...
complete with picnic and radio- perfect!
We had a fabulous lunch, duck fritters with quails egg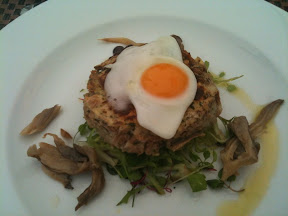 Rump steak with all sorts of lovely stuff...
And a 'deconstructed' cheesecake - which apparently means not put together! Either way we wasted no time in deconstructing it further...
And of course there were the plants, so many plants! We did our best to resist all day but when the four o clock bell rang there really was no stopping us.
Thank heavens for black cabs...
now all I have to do is get them back to Yorkshire and get planting...
using BlogPress from my iPhone