It was a long drive home from London yesterday, with some very tired little ones...
I think the hood was to drown out her brothers singing! We had an amazing time in London but there's nothing quite like coming home...especially when these greet you...
And these...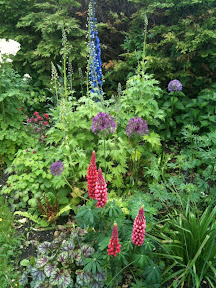 and even these...
I think my garden must be shy as it always waits till we're away to burst into flower! Every time I look away something else happens- dare I go away again? who knows what will happen!
The peas and lettuces which have been struggling have put on more growth in the past three days than in the last month!
Unfortunately so have the weeds - oh well, they're a good excuse for a morning out doors - the laundry can wait...
Posted using BlogPress from my iPhone