After sleepless nights and fretful thoughts we've had the good news we've been waiting to hear...the building inspector says yes - he's happy with our build, it meets all standards...we done good!!!!
So after months of this...
And plenty of this...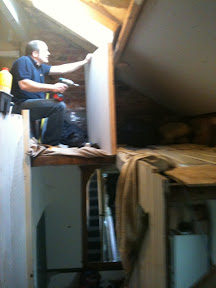 Were finally getting to this...
And now the plastering can begin - at last. I know buildings get signed off every day but they usually are built by people with lots of experience and a project manager. BH got a book from the library and watched a lot of grand designs but he's never built a home before and so when the man from the ministry said yes he was a very happy chap- and he might get some sleep now.
And me... Well I can't help it I'm planning cushions and wallpaper and carpets and now I can't sleep for thinking about it - help!!!
This will have to do for starters...
We call him John Deer and he's been waiting to find his home for too long now. We couldn't resist trying him out...
Posted using BlogPress from my iPhone