Today signals the start of cheese week at our house, when the five tons of Stilton that we bought, received and somehow acquired must be eaten up or rendered somehow useful as part of our war on waste.
First up was the thanks to the mega talented Shaheen at Allotment2kitchen. I saw these cheese, potato and kale pasties on her site and new we had just the leftovers to make them...
Then using the same mixture with addition of cranberry sauce I made smaller puff parcels...
These started off bite size but grew... Or maybe that says something about the size of my mouth!
Then I moved on to cheese scones.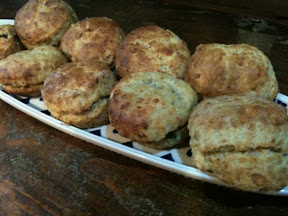 Never having made these before I went to Internet for inspiration and followed the recipe from the Stilton website- where else?! They turned out pretty well, they're bound for the freezer so i'll have to see how they fare there.
And to finish, blue cheese pasta, nice and simple after the afternoons bakeathon...
Okay so that's a blue cheese dressing too! Phew - at least the Stilton is all gone now...until next year that is. Now does anyone know what I can do with a wheelbarrow full of Brie?
using BlogPress from my iPhone