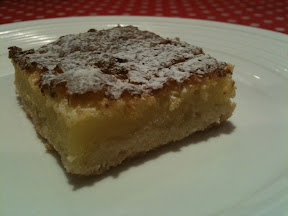 Last bakeup of the holidays today and a taste of somewhere sunny was definitely needed. We've been surrounded by rain and wind all day, rattling the windows and blowing the wheelie bins down the garden so i wanted something light and zesty to take away the winter blues ( and to use up some the leftover lemons sitting in the fruitbowl!)
These lovely lemon bars come from a favourite cookbook of mine The Dairy HollowHouse Cookbook by Crescent Dragonwagon - fab name I know! Every recipe has a great anecdote with it so if you ever see a copy snap it up.
Here it is...
And here's the recipe
Mix and press into the bottom of a baking tin
Half cup of butter
1 cup plain White flour
Quarter cup icing sugar
Beat
2 eggs
1 cup of sugar
2 tablespoons flour
Half teaspoon baking powder
Juice and rind of 2 lemons ( I added 1 more to the original recipe)
This mixture will be thin. Pour it over the first layer. Bake for 30 - 35 mins. Let cool slightly then sit with icing sugar.
Okay so they won't help with any diet resolutions but they are lush and brighten up the idea of tomorrow's back to work packed lunch.
I did think that a good walk with the dogs would make me feel less guilty about eating cake...I shook the lead, I put my coat on but these two are having none of it!
Oh well i tried!
Posted using BlogPress from my iPhone