We've been helping out at our local snowdrop walk at Thorpe Hall this weekend. The beauty of being a helper outer is that you get the walk all to yourself at the start of the day...and it was well worth it!
The snowdrops weren't the only showstoppers, aconites were popping out everywhere; the perfect companion to the simplicity of the white blooms.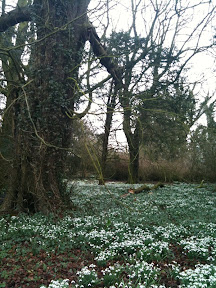 I got there first thing on Friday so I got the official first sneak peek.I did my shift on the front gate in my fabbiest flowery wellies then made a dash for it before the rains came - good timing or what!
Posted using BlogPress from my iPhone