We not only have a roof - we have windows too!
The big build is getting there at last! After months of scaffolding and cement we have a building that looks like we might one day be using!
The windows and the paint have made all the difference and thankfully they were done before the weather turned - hurrah! The glass is now in all of the doors and concrete floors have been laid. We're getting closer to picking curtains - but as BH assures me we're not there yet.
Our current project is this...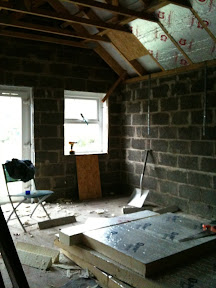 The beloved insulation! Its such a boring topic, task and thing to spend money on - but I know we'll be thankful for it in the cold Yorkshire nights ( which aren't limited to winter unfortunately!)
So that's how we're getting on...and why I've been absent from the blogspace...it's like I said, we're getting there...slowly! But when we get there- oh brother its going to be worth it!
BlogPress from my iPhone